AQSENSE is an innovative company to develop differentiated 3D techniques.
AQSENSE's 3D software tool provides the complete different service with fast process, accuracy and stability.
AQSENSE's 3D technique provides users with infinite potentials in the wide industrial field.
The increase of major output, optimized cycle time on heavy and huge calculation, auto-slicing of food process industry and packing industry is the result from fast and accurate 3D measurement. A perfect 3D data that is for dentists, orthodontist, prosthetistcan from dental treatment to supplement and implant production be obtained from AQSENSE's 3D. Automotive industry and other various area of manufacture industry can also be helped by AQSENSE's unique technique. In addition, by moving off-line measurement machine into in-line 100% all inspection, a strict quality control is possible. By having AQSENSE's 3D tool, camera manufacture and software providers can add another dimension on the original 2D machin vision.

3D shape reading library SAL3D is the set of function and tools to process Point Clouds acquired from all 3D vision sources. 1 million 3D points' 3D model comparison is done within 1second while keeping the best accuracy. So within in-line production process, it never affects the production speed and make it possible to inspect all products.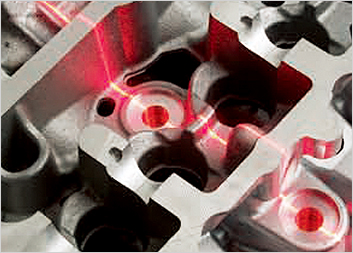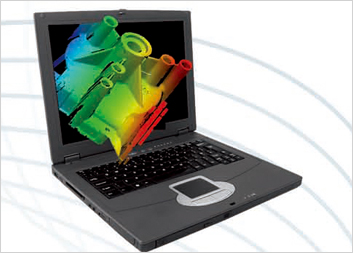 SAL3D's all functions are developed in an user-friendly way for software engineers and application skillful people. Standard model database's change can happens within few seconds easily as if many different part inspection can be changed at user control panel such as High accuracy 3D data, calibration, compensation for covering, virtual align, 3D point comparison, changes and detecting defeats. Re-calibration is semiautomatic and is easily performed. AQSENSE's innovative techique doesn't need a complex and expensive mechanic align part due to virtual align by standard model's coordinate and high deminsional calculation is performed in accordance with the time of production process.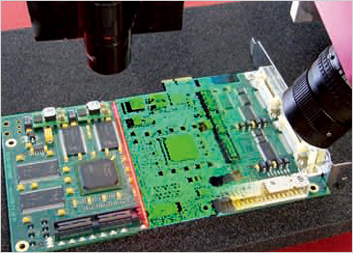 AQSENSE's 3D technique meets all requirements. Developer and application skillful people easily integrate 3D technique into any hardware setup due to modularity and expandability by AQSENSE's library concept and structure. Customized interface extends the diversity of AQSENSE 3D tool box. In addition, new functions based on customer's needs is added frequently.
3D technology has been used for several years in diverse industrial area as one of the tasks such as quality control, fast pattern production, reverse engineering and reinforced reality. Now quality control in industrial area and current application improvement is possible due to innovative AQSENSE SAL3D tool box with high accuracy and speed. Library function can be provided as FPGA so that complex 3D technique can be integrated into 2D.
AQSENSE SAL3D Peak Detector Tool provides a superior laser line detecting ability. This new technology can detect subtle height changes in 5um out of 130mm of view and 90 angle of camera and laser.
Features:
detecting by 1/64 pixel
high strength detecting partially
surface detecting of stable and wide area
obtaining direct smooth image
ROI size (Pixels)

2048×2048
1024×1024
300×1024
156×355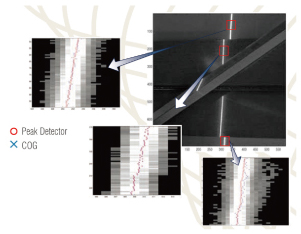 Smoothness Tests
10 times smoother image that 3D camera based on COG
no need to preprocess image
easily detecting a small flaw
expressing clearly the subtle one on the surface

SAL3D Shape Analysis Library Tool
SAL3D is a tool for developing a strong application based on 3D data or Point Cloud processing and analysing. These tools is specialized as high speed, accuracy and reliability which come from the skilled experiences in 3D fields. SAL3D offers max flexibility and customized service from 3D machine vision system to final users and system developer.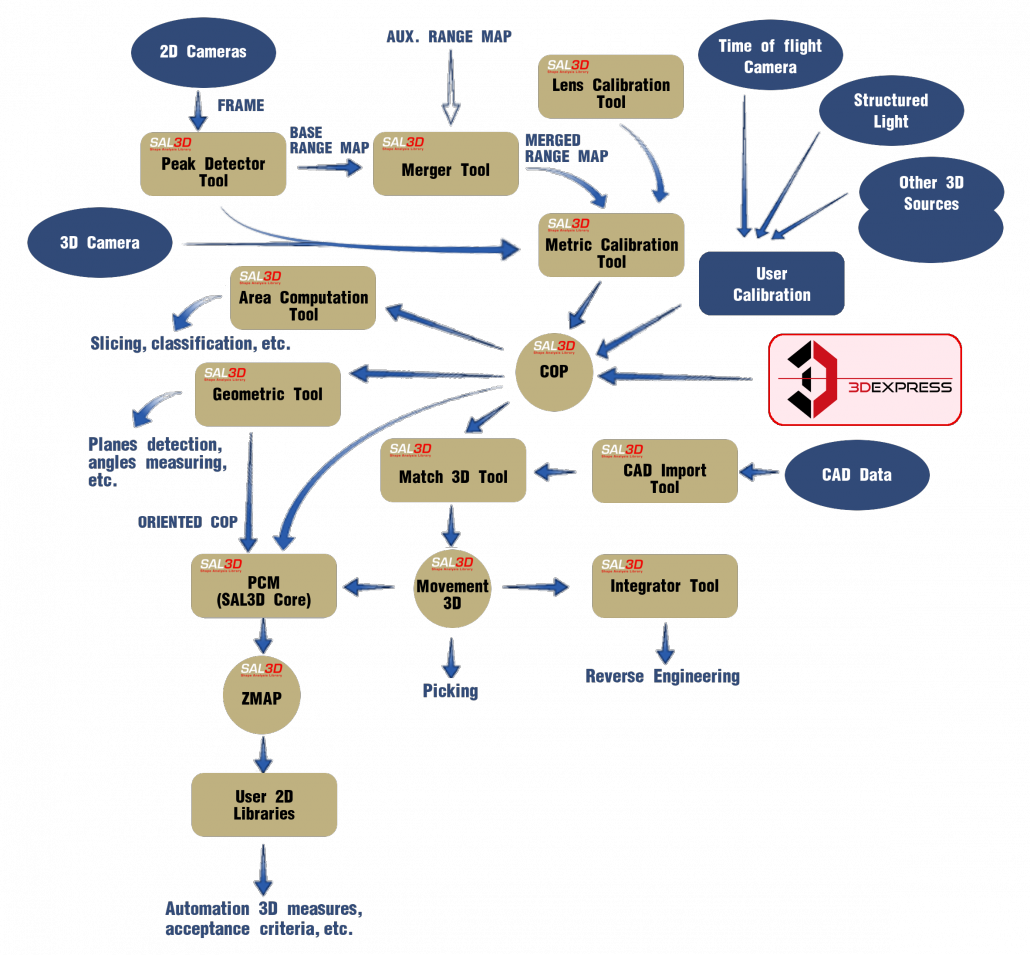 Peak Detector Tool
Metric Calibration Tool
Merger Tool
Match3D Tool
Area Computation Tool
CAD Import Tool
Integrator Tool
New SAL3D make it easy to integrate Point Cloud structure. This is fixed minor point scholar expressed as X, Y, Z. COP can be made by several types of 3D sensor such as laser triangular method, stereo vision.
when 3D inspection using conventional 2D, COP is projected as flat phase's 2D or Zmap for compatibility. Zmap keeps Point Cloud's real coordinate features(by metric system) without any distortion caused by perspective and enables 3D measurement by 2D vision library.
AQSENSE SAL3D Match3D Tool is one of the precise software which is able to compare align with extremely fast standard model and 3D point. Based on Best-Fit, patent pending align technique can be used for fast decision of location and direction. Also it combines with SAL3D core for the optimized surface extract.

Features:
Align time ~100ms
new parameter for align accuracy
alignment quality factor(fast check about bad align)
auto pre-align(Match3D Coarse extra option tool)
caparison with CAD DATA(using CAD import tool)
Benefits:
100% in-line 3D measurement and analysis
3D surface inspection of complex shape
simplifying the facilities for product location control
easy to change model without structure changing
various view of align for the entire shape restoration
no need with pre-alignment due to Match3D Coarse extra option tool
applicable code
The Metric Calibration Tool
AQSENSE SAL3D Metric Calibration Tool provides a simple and easy procedure to get real XYZ coordinate(by metric system) from 2.5D rangemap data obtained from all standard laser trigonometry system.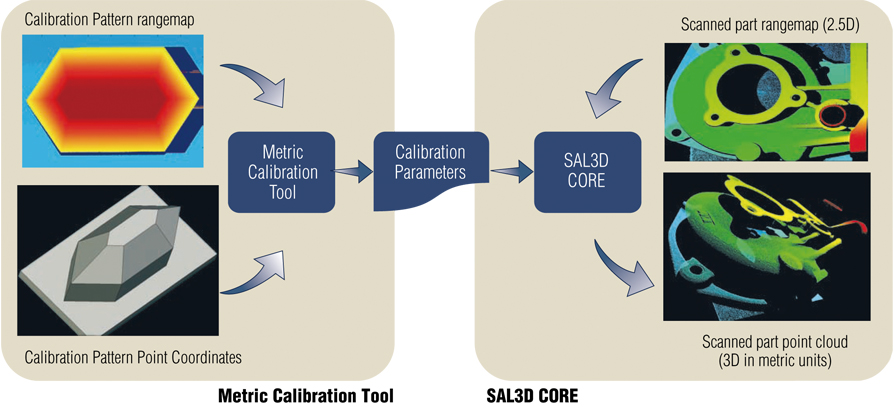 Features:
easy to use
using defined patter design
very accurate convert from 2.5D to 3D
complete removing the distortion from perspective(1)
theoretical 3D error standardization :1e-7um(2)
real 3D error standardization :50um(3)
The size of objects looks different by perspective, the distance between camera and objects. This tool is not for revising lens distortion phenomenon.
only mathematic technique used
real simulation:
AQSENSE Peak Detector Tool used.
Camera laser angle: 30
Fov: 130mm
sensor, noise, laser scattering, focus length can affect the results.